Welcome to the 2016-2017 Scarborough Lady Blues Girls Under 14 Rep Team Website.  Home of the 3 time Defending Division One Provincial Champions 2011, 2012 & 2015,  Silver Medalists in 2014 and Bronze Medalists 2013
The  2016-17 Scarborough Lady Blues is a U-14  Girls team (Grade 7 & 8) representing the Scarborough Basketball Association (S.B.A.) in the City of Scarborough, Ontario, Canada and is playing in the OBA.
Follow us @  https://twitter.com/LadyBluesBreedy
Lady Blues U16 team take provincial championship in Niagara Falls
Scarborough Mirror
The Scarborough Lady Blues Breedy U16 basketball team took the provincial championship held the May 2 weekend in Niagara Falls, ON.
The 15 year olds, from the Scarborough Basketball Association, had their first ever unbeaten season. They have competed in many tournaments, including some in the U.S.
At the provincial championships they played Blessed Sacraments from Hamilton in the final game and pulled off the win with a final score of 64-63 to win the championship.
In the last five years, three of the original members are still with the team. The Lady Blues won gold in 2011/2012, bronze in 2013, silver in 2014 and now gold again in 2015.
Team members are Jenna Lawrence, Kylee O' Hara, Liaya Johnston, Sydney Fearon, Wallace Spataro, Camille Clarin, Tiya Misr, Sabree Thomas, Keishana Washington, Brianna Breedy and Tamoiya Eldermire.
Assistant coach is Randy Washington and head coach is Brian Breedy.
WATCH US @ http://crownscoutgirls.com/media/gametape/20150118-scarborough-blues-breedy-u15-vs-blessed-sacrament-bruzzese-u15/
2014 OBA Silver Medalist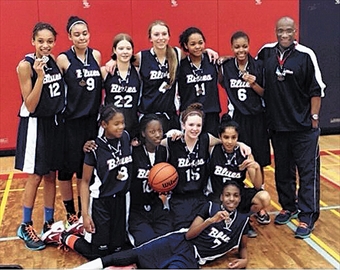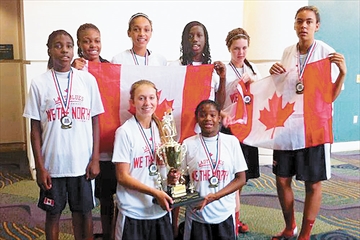 Scarborough Lady Blues
Photo/COURTESY
The Scarborough Lady Blues won the Youth Basketball of America (YBOA) invitational tournament in Orlando, Florida from June 28-July 6. The team includes Keishana Washington, Brianna Breedy, Sabree Thomas, Kylee O'Hara, Julia Kelly, Wallace Spartaro, Laiya Johnston, Tamoiya Eldemire and Coach Brian Breedy.
http://www.insidetoronto.com/news-story/4626622-scarborough-lady-blues-win-u-s-national-tournament/
http://www.imabxller.com/index.cfm?id=64170